July 2020: We stayed one night as a stop over enroute from attending our annual Silver Avion Rally in Elkhart, Indiana headed home to upstate NY. We wanted to just pull in, (not unhitch), but enjoy a restful evening…and a dip in the pool after a very hot rally week!
Erie KOA HOLIDAY is a very nice campground, and made a perfect respite stop for us after a 6 hr drive heading East from Indiana.
Reasons to like this campground:
The online reservation system of the KOA franchises is very good. Easy to use and you get instant confirmation online. I booked our Monday night site on Sunday afternoon. 🙂
Beautiful lush plantings, expertly maintained. (check out that front of the main building! By far the nicest landscaping we have seen at a campground around their main buildings.
Super easy access directly off the Interstate, but far enough to be very quiet
Sites are well maintained, though they are close together. We were site 42 (yellow right by the office) SITE MAP
They have a small to medium sized in ground pool which was open and the temperature was perfect! It was one of the cleanest pools we have encountered in years!
Very efficient and friendly reservation staff at check in (I believe we had the owner)
They pick up your trash at your site (we love and appreciate that feature!)
They have a beautiful quite large catch and release "Rainbow Lake"…below is the shot I took giving Reddy a walk…..beautiful at sunset!
As mentioned, we chose this campground because it fell right into our plans to go 6 hours and stop for the night. We arrived around 4 PM. Our site was a pull through (#42) with 30 amp, W & S. MAP It was just down from the main check in building and quite tight among the other trailers on either side but since we do not have slides, and Avion's are narrower than most we were just fine. I do not think I would want a weekend or week in that site due to lack of lawn or privacy for relaxing outside of your rig, but it did have a fire ring, wood picnic table if desired. for our overnight rest stop and pool dip it was perfect. Price for one weeknight in July 2020 was $62.00 inclusive.
We had a short happy hour after getting set up, then headed to the pool for a cool dip. It was luscious! The Covid-19 pandemic has caused some changes in operations and the owner noted when she gave me our instructions that there is a limit of 25 in the entire pool area allowed at a time. They are going on the honor system during the week (this was a Monday evening) as long as they could but staff would enforce if needed. There is a nice covered pavilion area just off the pool area with tables and chairs and I suspect during "normal activity" times this is a popular spot, perhaps a snack bar, etc.appeared to be there too-but not functioning when we were there.
Their camp store in main building was pretty basic. Some nice selection of tee shirts and some kids trinkets, but the rest was a bit scant, certainly very limited if you were looking for any repair items for your RV. You would need to go shopping elsewhere for them. Their map and website says they have a petting zoo area and snack bar. In our brief walk around we did not see these, but according to their map they do have them. (not sure if open due to pandemic issues)
This is a KOA and therefore, they do cater to families with children. There were plenty visible in the pool and playground area, but we managed to only get splashed on by jumping in kiddo's a couple times. There were no issues with kids making too much noise in the campsite rows that we experienced.
For Kids they have:
playground
giant lawn checkers
jumping pad
rental pedal go carts, hot wheels
mining activity, panning for "gems"
tether ball
volley ball
of course…the pool
This slideshow requires JavaScript.
Would we stay again?? YES!

we do plan to make this a regular stop when we are heading to or from our Silver Avion Fellowship Rally in Elkhart, Indiana in July each year!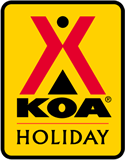 Erie KOA
Open April 17 – October 18
6645 West Road
Mckean, PA 16426